In general, safe movement and parking of vehicles is a complex problem facing all drivers at present time.
Apart from this, there is the problem of garages in Black Sea city of Batumi. After the local government made the decision to prohibit garages there, owners were forced to park their vehicles under the open sky.
Young inventors started taking care of this problem and they achieved a great success.
Mobile  garage – this is a very interesting and innovative project. The Batumian inventors have already patented the project and they are planning to start the mass production in the nearest future.
Time will show whether this invention solves the parking problem in the city or not, however, Giorgi Bobokhidze's invention has already attracted a great attention and interest of the public.
Giorgi is 23 years old, he is graduated from Technological Faculty of Shota Rustaveli State University. The young inventor got interested in this field and innovative projects since school. Later, he, together with two other students, set up the "creative group" and started working on various scientific projects.
Giorgi is fond of a healthy lifestyle.  He has made triathlon his favorite hobby.
"Doctrina" has interviewed Giorgi Bobokhidze about inspiration of his scientific activity and difficulties in the working process:
-When did you come up with the idea to invent the mobile garage?
-In 2016, I came up with the idea to create any innovative product. The idea was driven by the prohibition of capital garages in the city. Drivers had to park their cars under the open sky. I decided to create a portable garage that would be mobile and would also protect vehicles from atmospheric sediments. In the same year, I patented this idea. As for the work process, we have created the first prototype, which took a lot of time and effort and showed a very successful result.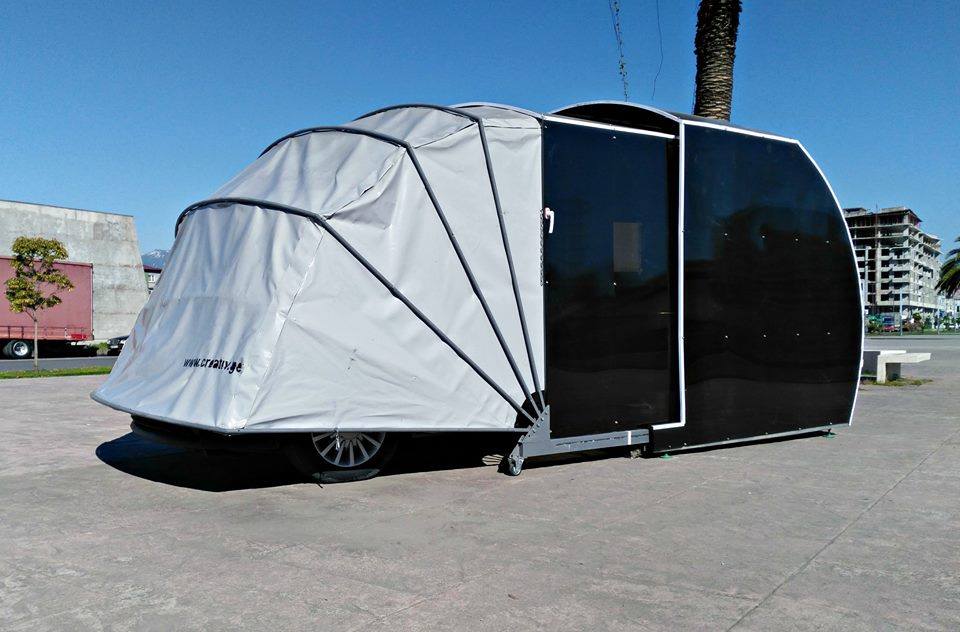 – What difficulties did you face?
-There were a lot of difficulties, because we worked on the product that was unfamiliar and difficult for us. However, we were satisfied with the final result.
– Why is your invention unique one?
– The uniqueness of my invention is indefinable for me, as for the author, because it is my first invention. Generally, it's up to those people, who will get interested in the product and purchase it, to evaluate its uqueness and benefits.
-What about your future plans?
-I am working on a lot of projects, like this one and even, greater than it is. As for the future plans, I intend to make my company more successful.
 Author: Ana Urushadze
Translation: Tamar Tabatadze
The Hall of Young Scientists & Analysts – "Doctrina"
კომენტარი