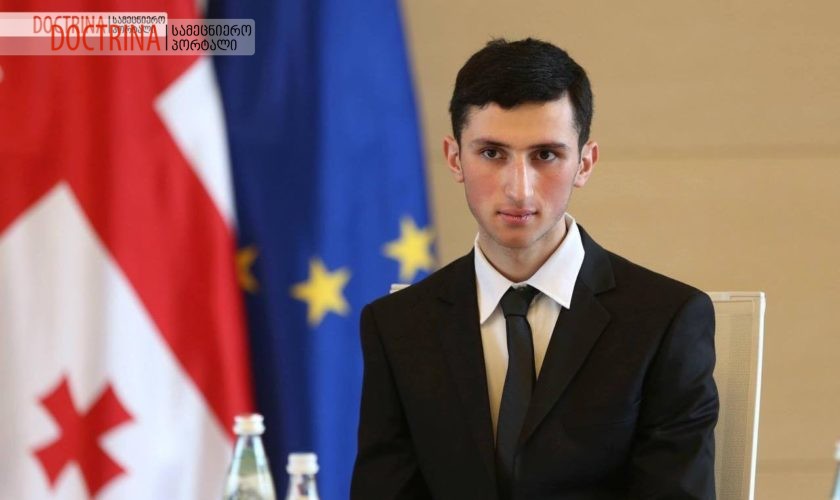 The distance from Akhaltsikhe [town in Georgia's southwestern region] to the United States is quite far, but the desire, hard work and constant aspiration to development prove that the distance is just numbers and everyone can make his/her dream true.
When he was 10th grader, KarloKhutsishvili, together with his friends developed an innovative device – Multiclimatizator, which makes it easier for farmers to do their work and make interesting forecasts. This multifunctional and innovative project has brought an international success to the young inventor.
19-year-old KarloKhutsishvili is the first Georgian who stepped into NASA's US space agency. The Georgian student's invention overcame the oceans and gained a great success and recognition in the international arena.
But everything started much earlier, when Karlo's attention was drawn to the green scheme in a broken electrolyte. It took Karlo a long time to study the components of the scheme and to develop the similar one. Initially, he failed to achieve success as it appeared impossible to find the similar components, but later, an unexpected occasion – a man from the TV Service Center changed everything. The work, started with a green scheme resulted in "Tesla" transformer. This is the device that enables wireless ON/OFF operations on light bulbs from a few meters away. This device has a special plasma that allows carrying out various tests.
Then there were lots of local and international competitions, prizes, more recognition and stimulation for future scientific activities.
Currently, the young Georgian physicist has more than 10 inventions, he has won prizes and gained victories. In the future, he plans to improve his activities and patent his inventions.
Apart from the scientific activities, KarloKhutsishvili is fond of sports, he likes listening to classical music and playing drums.
In his interview with "Doctrina" Karlo spoke about the challenges of his work, about his projects, which are not only of scientific but also of social significance, and aim to satisfy the needs of the society and to improve their living conditions.
– Tell us about some of your projects, why are they innovative?
-One of my successful projects is the electromagnetic weapon. The device throws a metal piece, placed in it, over a long distance, so there is no need for bullets. My friends and I presented this invention to the competition and the project was widely approved.
I would like to speak about my school project– Jakob's Ladder, which reflects various events, a static gap as well as a spark gap and etc. This invention brought me victory and a great success.
–What about the Multiclimatizator, which brought you the greatest international success and the possibility to visit NASA?
-This is an innovative device used in the agricultural field and is very useful for farmers. Multiclimatizator is mainly used by farmers. They use the device to learn about the land humidity, temperature, climate, and predictions about expected weather. Multiclimatizatoralso enables the farmer to check and control the composition of the plants. It is multifunctional and is charged by a solar power.
– This invention brought my partner and I victory at the Millennium Innovation Competition throughout Georgia, and after that we left forNASA's Kennedy Space Center. I met with a lot of scientists, inventors and astronauts there and got a lot of experience, which gave me more motivation for my scientific work.
-Tell us about your other international successes and their importance for your career development…
– I participated in the international Olympiads quite often and in most cases, successfully.
One of such inventions was the "Axero Glove ", which enables users to manage different devices. I have represented my country with this project to the International Olympiad successfully.
I have implemented an innovative project together with my sister –unmanned mine cleaner – "Life Saver". This is a special program downloaded in iPad, which contains a map and provides information about mined areas.  We have two drones, one of them checks the area and marks the places where the mine is discovered and the second one, which conducts mine clearance works on the territory. This invention won the first prize at IPO [International Philosophy Olympiad].
Following the success, I was invited to the Komarov school, where I was offered to teach robotics.
-Some of your inventions are not only of scientific, but also of social importance.  Tell us about them…
-From childhood,I was interested in the lives of people in wheelchairs and the problems of these people. I have friends, who use wheelchairs and together with them I have developed an electric wheel that weighs much less than other wheelchairs and thus makes it faster and easier to move. The wheelchair also has a touch screen system that allows blind people to use it.
Our [country's] environmental is often not adapted for wheelchair users. We often see the cars parked on the wheelchair ramps or other wheelchair accessible spaces occupied by non-disabled users. In order to solve this problem, I have created a special device that is obstacles for vehicles and hinders them to occupy the parking lots, which are accessible for wheelchair users. You will need a special card to overcome this obstacle.
-What is your current job?
-I have students and teach them using innovative methods.  We work on various projects together and I help them to participate in Olympiads.
– I think the scientific field needs more careand support in our country. I try to promote the development of this field with my active work and to make it more interesting.
-What is your formula to success ?
-The motto of my life is behind all my successes and it helps me to overcome all difficulties – Nothing is Impossible!